Lynne Farwell White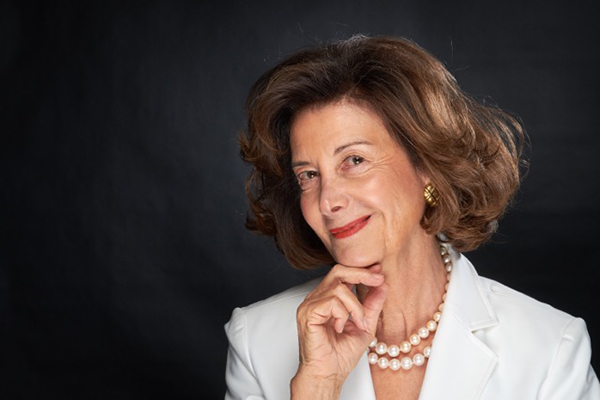 A New Orleanian born and raised, Lynne Farwell White was the second of three daughters to grow up enjoying the occasional rickshaw ride through their grandparents' Japanese garden in Pass Christian, Mississippi. During her summers, Lynne attended camp in the mountains of North Carolina and explored the Gulf Coast aboard Pax, the family boat.
A debutante, Pi Beta Phi sorority member, and Mardi Gras queen, Lynne graduated from Metairie Park Country Day School and went on to be president of her class at Newcomb College before pursuing a degree from the New York School of Interior Design. She has worked in various New Orleans museums and served on many boards, including the Board of Overseers of the Hoover Institution in California, and has been active with The Garden Club of America.
A world traveler, Lynne has seen Africa's wildlife up close in Kenya, gotten stuck in the mud after a burst of monsoon rain while driving to the Taj Mahal, and eaten a traditional Chinese dinner on a junk in Hong Kong's Victoria Harbor. Her adventurous spirit has led her to raft down the Colorado River, visit Antarctica twice, skydive over Louisiana, and paraglide above the American West.
Prior to writing Giving and Gifts, Lynne self-published three monographs on her sister Stella's artwork: Stella Evans Farwell's Art Exhibition "Creativity" (2013), Stella Farwell: New Works (2009), and Stella Farwell at BIG Arts (2007). Many of Stella's abstract paintings and sculptures were inspired by the beauty of Florida's Captiva Island, her home for many years before her death in 2014. Lynne's book Middlegate: A Japanese Garden (2011) chronicles the history of a regional landmark that her grandparents created and Hurricane Katrina swept away. Lynne's "Jean Joseph Vaudechamp and New Orleans," a study of the nineteenth-century French portraitist and his work in Louisiana, appeared in the journal Antiques in September 1968.
In 1971, Lynne married H. Hunter White, Jr. and became stepmother to his two sons. The couple was blessed with two more sons, and she now has four fabulous daughters-in-law and ten grandchildren. She divides her time with family in New Orleans; Bay St. Louis, Mississippi; Little Compton, Rhode Island; and Lyford Cay, the Bahamas.